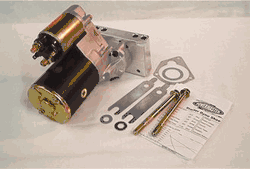 Powermaster 9000.

Fits small and big block Chevy engines with either a 153 or 168 tooth flywheel.

Weighs only 10 pounds (9 lbs less than the stock starter).

Adjustable mounting block.

Provides 180 ft-lbs of torque.

Up to 10:1 compression engines.

1.9 horsepower motor.

3.7:1 gear reduction.

Works with kicked out oil pans.

Can be inverted with the solenoid down.

Straight mount design.

Hitachi short design style starter.

All new, not rebuilt.

Includes mounting hardware and shims.



PART NUMBER: PWM-9000






HOW TO ORDER:

1. If there is an applications box, click, then scroll the applications box to find your vehicle.

2. Click on your vehicle.

3. Click "add to cart"

4. Enter your information and submit order.

5. If there is no applications box, then just click "add to cart", then enter your information.





HOURS: 11:00 am to 6:00 pm Monday - Friday Eastern Standard Time

We welcome CANADIAN customers! For ordering information, click on "Orders To Canada" at the top left side of this page.

We will not ship to freight forwarding - expediting companies.

PAYMENT METHODS: PayPal, Visa, Mastercard, Discover, American Express, money orders.